---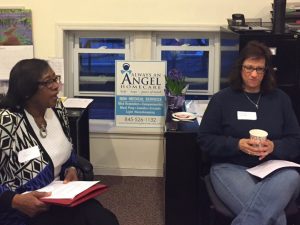 Our first quarterly CAREGIVER SUPPORT GROUP was held on Monday, April 10 in our office. Led by Rev. Bernice Hanemann with over 25 years pastoral/chaplain experience, five caregivers attended.
This first meeting's focus was on losing a client through death. Death is draining; put it in its place; it's a long journey; run the marathon and consider the following:
Help your client cross over. You can't save them but you can help them on their way to their eternal home.
Bring solace to the family and client.
You don't have to approach religiously, but you can sing or read to your client, rub their back or hold their hand.
Pray for them silently.
When you become close to a client, it is difficult for you as well because you have invested your time and emotions in that person and when they expire, you feel the loss.  To help with your healing process: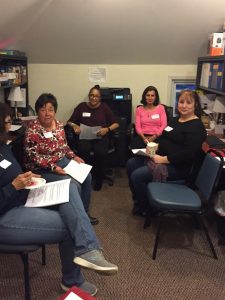 Prepare yourself and the client during the process
Go to the viewing or funeral
Send a card to the family
Some caregivers meditate
Know that you have done an excellent job and know that God is pleased how you cared for your client and He'll give you another one to love. These are His children you are caring for and you must do your best.
Take the good experiences that you have learned from your last client and embrace it with the new one.
You, as a caregiver, are a special person chosen by God to help your client.  Ask for strength in your personal life and in the job He has assigned for you to do.
Suggested Reading – The Applause of Heaven by Max Lucado