A homebased activity program equipping caregivers to engage in fun and meaningful ideas with their clients.
Let's Learn, Laugh, Play and Pray!TM
An online activity program to assist our caregivers to engage seniors as well as people with cognitive disabilities in fun and meaningful ideas to promote their cognitive fitness and their emotional, spiritual, social, and physical wellbeing.
Stimulating activities can enhance the client's life by enlivening their spirits and bringing them joy while at the same time lessen possible anxiety and agitation. Our activities aim to:
Choose the Current Month Activity Calendar
And Then Scroll Down for 24 More Activities!
Weekly themed activity ideas celebrate the well-known and more obscure holidays and observations in each month along with a few various topics.
We strongly encourage you to supplement with activities for the Mind, Body and Soul each week.
Find 21 more fun and meaningful ideas. Some activities are one-time-only, others are seasonal, but most can be done over and over again.
Always factor interests, cognitive skills, and physical capabilities
Caregivers may know their clients best. This includes what they like
and dislike; what they can and cannot do cognitively offering the
appropriate amount of assistance and knowing their physical
capabilities whether on an outing or choosing the right
exercise video.
Be in the moment – encourage to fully use five senses
Caregivers should encourage their clients to fully experience the
program by slowing down to take in, absorb, appreciate, savor and
revel in each activity using their five senses of sight, smell, hearing,
taste and touch.
Consider dietary restrictions
Refer to the nutrition section on your client's Service Plan to see if
they have any dietary restrictions like no salt, no sugar, no fat, etc.
Eliminate or modify recipes accordingly.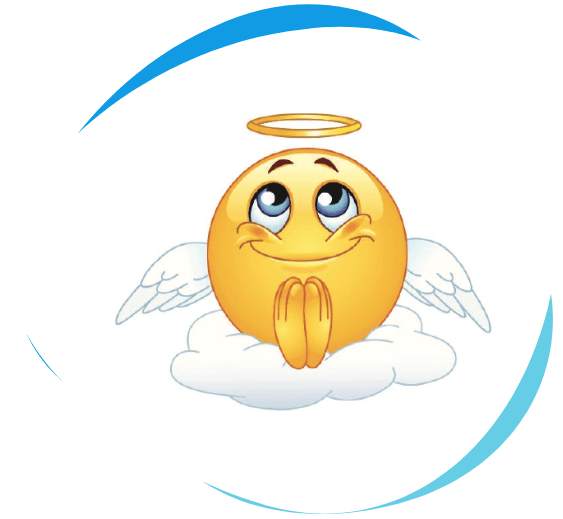 Any angel that suggests an activity or an idea to further enhance an already existing activity has an opportunity to earn their halo. 
Please contact the office to share your ideas for consideration.
Frequently Asked Questions
We are sure you have lots of questions about the program.
Feel free to give us a call. We are happy to speak with you!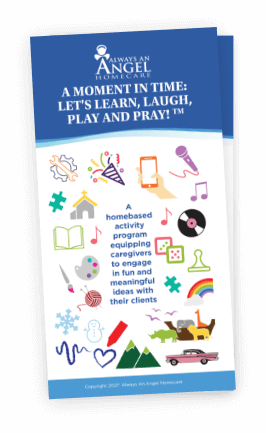 Let's Learn, Laugh, Play and Pray!TM