A list of local resources to help
Living, working, and playing in the communities we serve, we've gotten to know many different resources that we believe can improve our clients' quality of life. We hope you find these resources helpful too.
There are several organizations that will lend you a variety of medical equipment like a cane, walker, wheelchair, shower chair, etc. View our list of local places.
Lion's Club, Croton
contact Don Daubney, 914-271-5200
Pawling Resource Center (must be resident, worker or student in Pawling)
845.855.3459
Town of Lewisboro, Goldens Bridge
contact Pam Veith, 914-232-6162
Yorktown Volunteer Ambulance Corps (for Yorktown residents only)
914-245-9822
MedicAlert® + Alzheimer's Association Safe Return® is a 24-hour nationwide emergency response service for individuals with Alzheimer's or a related dementia who wander or have a medical emergency.
Senior motorists may have been driving for decades, but safely navigating today's roadways could be more challenging than when they first took the wheel.
Putnam Hospital Center's Safe Driving for Seniors Program
Senior motorists may have been driving for decades, but safely navigating today's roadways could be more challenging than when they first took the wheel. This is why Putnam Hospital Center and the Putnam Count Office for the Aging are co-sponsoring the AARP Driver Safety Program. This eight-hour refresher course reviews New York State driver regulations and includes a self-assessment of age-related changes that may affect driving ability. Completion of the course entitles drivers to a 10-percent discount on liability and collision insurance premiums, as well as a reduction of up to four points off an individual's driving record.

Attendees must be 50 years of age or older, but need not be a member of AARP. The AARP Driver Safety Program is held several times each year, and registration is required. For more information or to sign up, call 845-808-1700.
---
Burke Rehabilitation Driver Evaluation Program
Individuals with physical or cognitive disabilities; including age-related deficits who would like to start or resume driving may take advantage of Burke's Driver Evaluation Program. A licensed occupational therapist administers tests that measure necessary driving skills to determine if someone can drive safely. For more information, please call (914) 597-2326.
---
Helen Hayes Hospital's Adapted Driving Program
The Adapted Driving Program, a service provided by occupational therapists, is designed for individuals who have physical or cognitive problems that may affect their ability to drive safely. The program is available to licensed drivers who have suffered a neurological event such as a stroke, brain or spinal cord injury, MS, or dementia or who have orthopedic issues that interfere with driving, including limb amputation.

All candidates for adapted driving must have medical clearance from a physician and a valid driver's license before entering the program. All evaluations are completed by an occupational therapist experienced in driver rehabilitation. The service begins with a pre-driving assessment of your potential to be a safe driver. On the successful completion of the assessment, the therapist provides an on-the-road evaluation in a specially modified full-size car. For individuals who will require adaptive devices in order to drive, one-on-one driver training is provided specifically on how to use this equipment. These sessions are specifically tailored to meet your individual needs. After successfully completing the program, the therapist will refer you to the Department of Motor Vehicles for final approval to drive.

For information on the Adapted Driving Program, including evaluation/training fees or to schedule an appointment, call 845-786 4306 or 1-800-70REHAB ext. 4306.
View our directory of Caregiver Support Groups for Non-Alzheimer's and Alzheimer's Association Caregivers.
Carmel
Putnam County Office for the Aging
110 Old Route 6
Carmel, NY
1st Thursday of the month
12 noon
Marie Vigada, 845-808-1700 x47134
Cortlandt Manor
Hudson Valley Hospital Center
1980 Crompond Road
Cortlandt Manor, NY 10567
Call 914-734-3557 for location
A program of Leave the Light On Foundation. Each session will have a specific theme, following an over-arching theme of supporting the caregiver. The group will provide resources and opportunities for relaxation for caregivers.
Mahopac
Putnam County Office for the Aging
William Kohler
180 Route 6
Mahopac, NY
2nd Thursday of the Month
12:30pm
Mary Nallen, 845-808-1734
Mt. Kisco
Ken Hamilton Caregivers Center
Northern Westchester Hospital
400 E. Main Street
Mt. Kisco, NY 10549
4th Wednesday of the month
9:30 – 10:30 am
914-242-8128
Putnam Valley
Putnam County Office for the Aging
Putnam Valley Friendship Center
Putnam Valley, NY
3rd Thursday of the month
11:30 am
Michelle DiMarco, 845-808-1700 x47921
Alzheimer's Association Support Groups
Alzheimer's Association's Caregiver Support Groups are designed to provide emotional, educational and social support for you the caregiver. They can help you develop methods and skills to solve problems, maintain your own personal, physical and emotional health and optimally, care for the person with dementia. Caregiving doesn't have to be a journey you do alone. Reach out to a group near you by visiting Alzheimer's Association of the Hudson Valley.
To guard and guide by your side…
always care, always there
"It was a perfect experience"
I was really impressed with the office follow up and help, and certainly with the aide that worked with me. This was my first experience needing any help, but a broken arm gave me little choice. It was a perfect experience.
– Susan A
Cortlandt Manor, NY
"She was very attentivive and followed my suggestions in caring for my sister"
A very lovely young woman assisted my sister. My sister was very pleased with her and bonded beautifully with her. She was very attentivive and followed my suggestions in caring for my sister. Thank you.
"indispensable part of the family"
It was hard to convince my parent to allow a caregiver to come into their home but the caregivers from Always An Angel soon became an indispensable part of the family.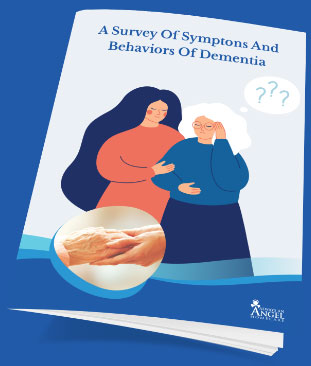 A Questionnaire Of Symptoms And Behaviors Of Dementia