Happy Thanksgiving from the team at Always An Angel Homecare! We want to take this opportunity to give a special thanks to all who have come across our blog! We are so thankful for each and every one of you, and hope that today's post is an encouragement especially to those who may be celebrating this year's Thanksgiving Holiday with the recent passing of a loved one or alongside a family member who is struggling with dementia. Our prayer is that you will find moments throughout this special day to give thanks with a grateful heart, rejoice and live abundantly alongside family and friends.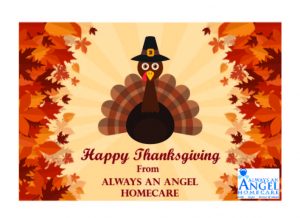 Thanksgiving can be a time of great joy as family and friends come together celebrating gratitude, but it can also be a difficult time when a loved one has recently passed away or when a family member is suffering with dementia. Events like this can make the holidays stressful and very emotional. Here are a few tools to put into action if this year's Thanksgiving looks like you'll be facing these challenges:
Take it slow.
A major holiday like Thanksgiving can be a pretty busy day with the cooking and socializing but make sure that you are taking care of yourself through the hustle and bustle of this holiday. It can become a lot, especially if the added stress of having a family member who is suffering with dementia is present. The constant reminding and reassuring can be difficult. This applies even more if it's your first Thanksgiving with a beloved family member no longer present.
So if you need to step away and take a five minute break, do it. You're better removing yourself from the situation as opposed to having an emotional outburst in the middle of turkey dinner. Never forget about taking time for yourself during grieving, and remember that you are not alone!
Remember why you're there.
Whether the family member is deceased or suffering with memory loss, don't allow that to affect you to the point that you forget why you are celebrating Thanksgiving in the first place.
Thanksgiving is about gratitude; so often we get tangled up in our everyday lives and the busyness of our own circumstances. This is why Thanksgiving is such a popular holiday because it allows us to step out of our everyday busy lives and reflect on all the things we are thankful for.
Yes, for some families, Thanksgiving can be a challenge, but we want to encourage you to remember why you are celebrating – to give thanks for all the Lord has blessed you with in the last year.
Be encouraged.
Thanksgiving is a time to celebrate all the Lord has given you. Our staff and caregivers at Always An Angel Homecare want to provide you with additional encouragement from Colossians 3:16-17
"Let the message of Christ dwell among you richly as you teach and admonish one another with all wisdom through psalms, hymns, and songs from the Spirit, singing to God with gratitude in your hearts. And whatever you do, whether in word or deed, do it all in the name of the Lord Jesus, giving thanks to God the Father through Him."